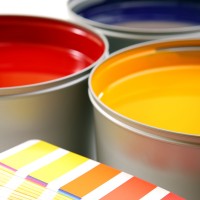 The ink manufactured by La Sorgente reach the entire national territory and a lot of areas in the world, in almost all the varieties of flexographic and rotogravure printing plants, both on paper support and plastic films, both for simple identification usage and for ambitious realizations which have little in common with the general conception of packing as "protection for something more precious" and which are inserted in full in the new conception of "Packaging" as vehicle of absolute promotion of the product there contained.
Excellent printing realizations on corrugated cardboard, sacks, paper etc. both industrial and commercial as on plastic films and adhesives, have insured La Sorgente the estimation, the confidence and friendship of a wide range of customers among the most important in the national field.
The production of ink for Tissue paper intended for hygienic usage deserves a different approach. Right from the sudden rise on the consumer market of products as kitchen rolls, cloths and napkins, hygienic paper, etc. the name of the company has always been matched with companies among the leading national and international manufacturers.Today it ensures, among its range of colours, all the resistance and security characteristics required by the actual rules about packages for alimentary usage. Therefore, using also specific skills, it pays continuous attention to national and European trends and rules.
For instance, we are quoting products – according to EN 646 standards – suitable for foodstuffs under the EC Regulation 1935/2004 – in line with the Swiss Ordinance no.817.023.21 and in conformity with the Ministerial Decree of 21/03/1973.

With the active participation to the Inks Technical Committee inside the AVISA group of Federchimica, major issues such as "Safety at Work" and "Chemical Risk" analysis are discussed with an ethical and non-competitive approach. In fact, La Sorgente's inks satisfy requirements of the law for the admission of chemical substances on the market and applicable obligations for their classification, labelling and packing (REACH, CLP and ADR Regulations).
Among the recent developed products, we can find water-based ink for the printing of full plain on low graming paper (skin, thin paper etc.), again water-based ink for high definition printing on plastic films, high definition solvent-based ink for inside or outside flexible packages for food.
The ink of the various series can be formulated in shapes both "by sample" and with reference to the so far very well known "by Pantone®", for trait or high definition full plains, with chemical-physical resistances suitable for usage or particular performances.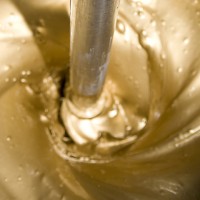 Through the production of water-based concentrated bases as solvent-based, usable with manual or automatic dose systems (the latter granted on free usage by the company), La Sorgente enables every user, keeping a limited number of base colours and using the relative consulence and assistance, to obtain, easily and in loco, a very wide range of shapes.
La Sorgente, sensible to the demand of consumers who have got solvent-recover down plants, inserted in its manufacturing line also mono-solvent products several years ago by now.
It can also satisfy a demand for ink for application on measure as ink-jet markers, deflexion ink, blotter ink, typographic slotters, etc. , even if with marginal presence.