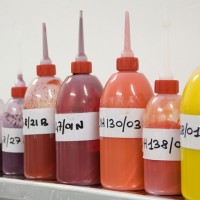 La Sorgente Spa runs its activity in Poppi, in the Province of Arezzo, on an area of about 10,000 square metres.
There are located, besides its raw materials and technical headquarters, its industrial buildings, meant to the manufacture of water-based and solvent-based flexographic ink separately. All the area is privately equipped with technical and security offices.
The machinery in use in the factory, both in the projecting and manufacturing phases, is continually updated with the most modern systems put on the market, even run by specific software.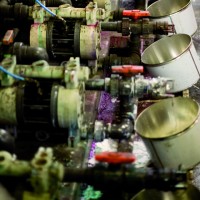 Our Research and Development Laboratory is gifted with equipment, printing machinery included, in order to be able to test the most common usage, directly.
Our Quality Control Laboratory, for each manufacturing of semi-raw and/or finished products, makes a conscientious control of the correspondence of the same with our kept standards. Every manufacturing process is filed and kept at disposal for the following two years, both in its documental part and in the product itself.
The final product is realized to offer a service as best as possible in relation to the needs of our customers.
Basic pastes are managed by an automatic amount system, assuring the highest correspondence and uninterrupted quality to the routine manufacture.
The completely customized manufacturing processes, on the contrary, are made for demands for particular characteristics.
The manufacturing machinery has a relatively short working life, both shakers and microsphere mills and amount plants, and are replaced or completed in order to always use the most advanced technology.